Technozon is known worldwide for its honest reviews of 4K TV players. The author finds interesting and inexpensive solutions that will satisfy all the wishes of the user in watching movies and in games. Exceptions are made - a review of unworthy decisions is carried out. Example: TV box HK1 X3 on Amlogic S905X3.
Channel links, as usual, are presented at the end of our review.
The novelty of the autumn of 2019 of the year attracted attention with its unusual design, technical characteristics and price. And also, Chinese sellers offer to buy TV box in all kinds of configuration combinations. In particular, they offer multimedia remotes that work on IrDa or Wi-Fi.
TV box HK1 X3 on Amlogic S905X3
| | |
| --- | --- |
| Brand name | Lihetun |
| Chip | Amlogic S905X3 |
| Processor | 4X Core ARM Cortex A55 (1.9 GHz) |
| Video adapter | ARM Mali-G31MP |
| RAM | 4 GB DDR3 (2133 MHz) |
| ROM | 32 / 64 / 128 GB eMMC |
| ROM expansion | Yes, microSD up to 64 GB |
| Wired network | Yes, RJ-45 (1Gbits) |
| Wireless network | 802.11 a / b / g / n / ac 2.4GHz / 5GHz (2 × 2 MIMO) |
| Operating system | Android 9.0 |
| Interfaces | HDMI 2.1, AV-out, 1xUSB 2.0, 1xUSB 3.0, RJ-45, DC |
| Declared video format | VP9-2 to 8Kx4K @ 24, H.265 HEVC MP-10 @ L5.1 to 8Kx4K @ 24, H.264 AVC HP @ L5.1 to 4Kx2K @ 30ps |
| Price | 35-60 $ |
In appearance, the prefix really looks unusual, which attracts attention. The body is in the form of a washer, where interfaces are spaced along the length of the circle. There is even an LCD display. Interesting style, color and shape.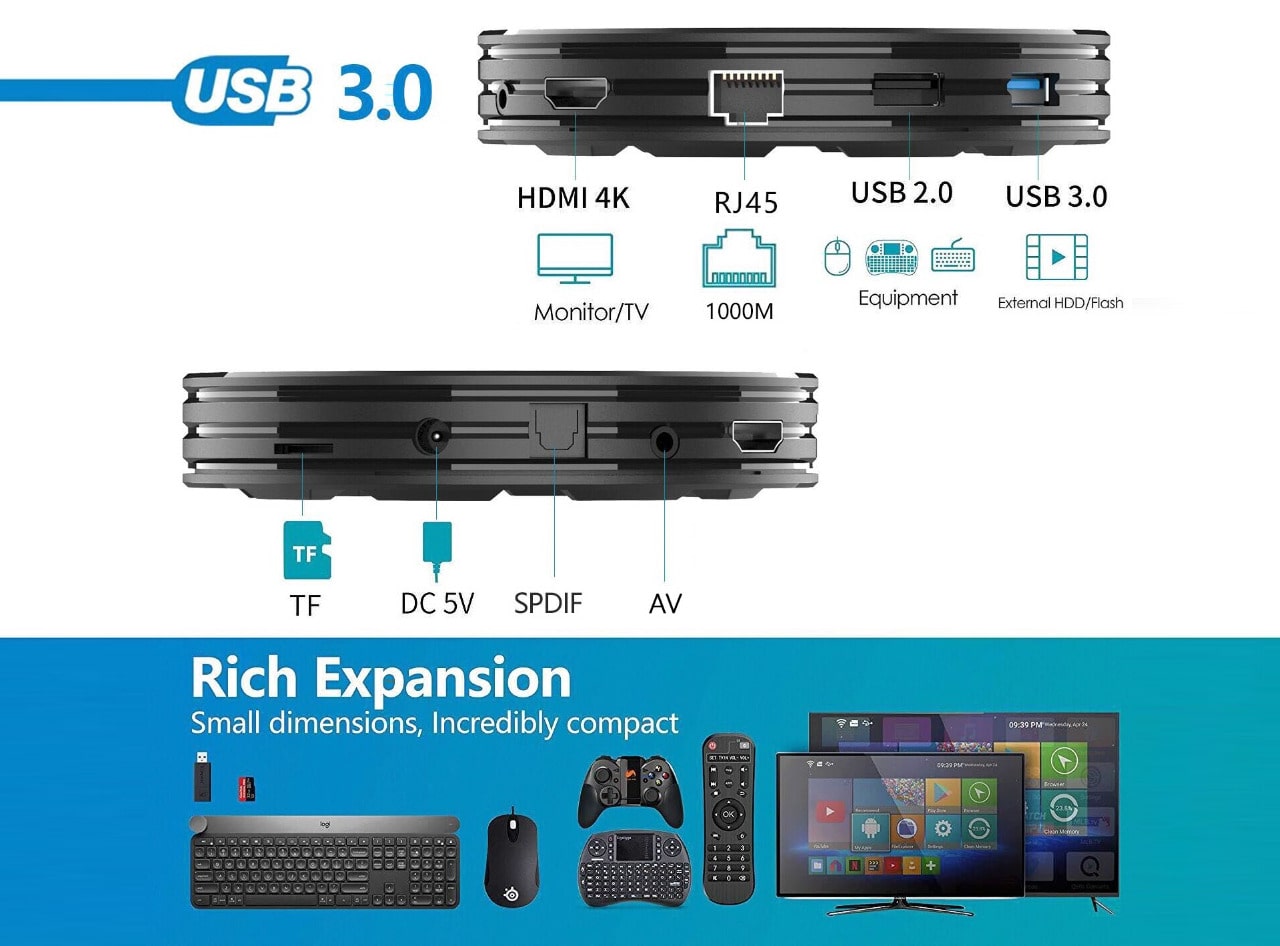 The main menu of the console and the convenience of settings with controls, for the user is always in the first place. Here, the manufacturer did not even bother to make a socket. Status bar, curtains - they are completely absent. Moreover, installing your own solution with Google Play will fail. In the video review, Bubble is trying to "screw" the Material Notification Shade, hoping to fix the situation with a third-party application. But alas, the "piece of iron" simply does not understand what they want from it. And yet, the manufacturer does not grant Root user rights.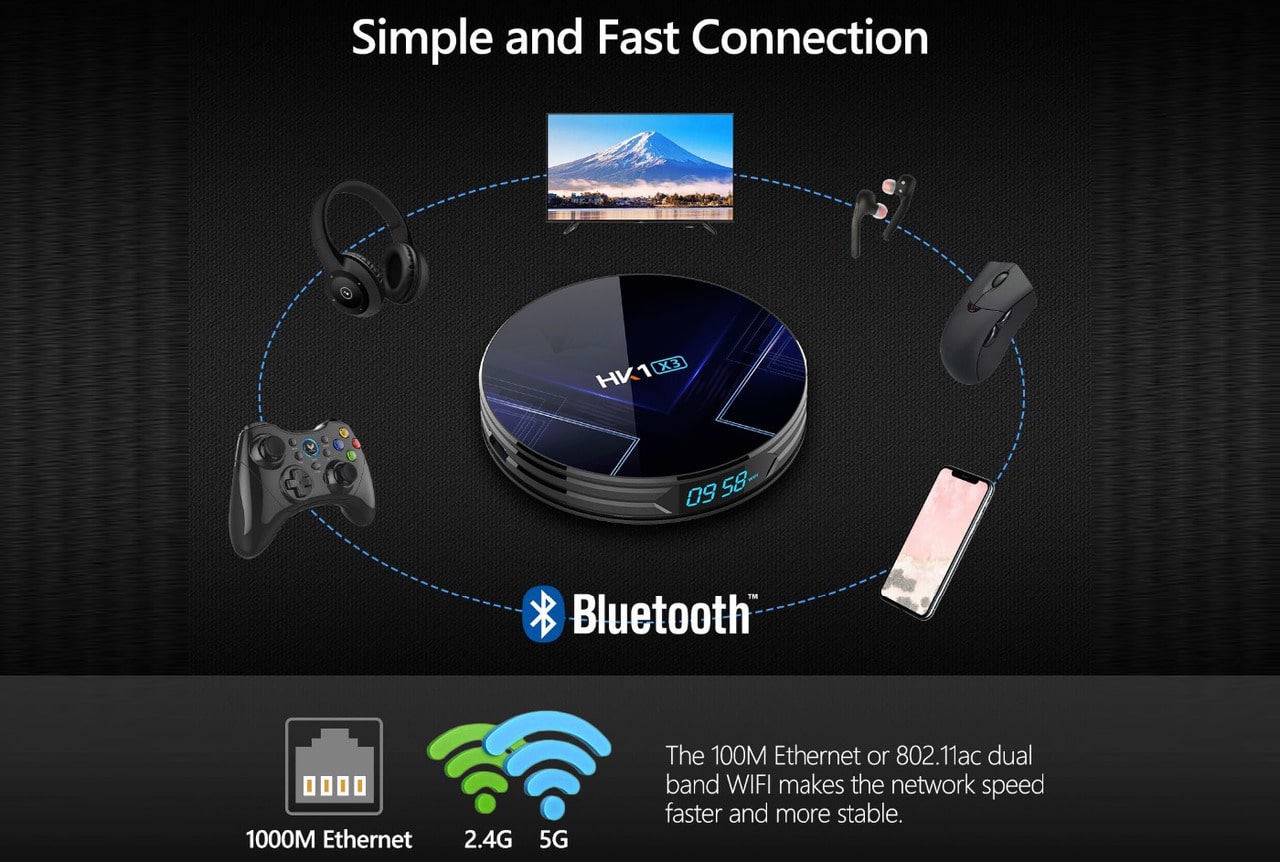 Throttling is another story. The Amlogic S905X3 chip with the new Cortex A55 processor delivers excellent performance. But on other TV boxes. The HK1 X3 TV box, even on the 30 minute test, shows terrible results - 68%. The device heats up to 75 degrees Celsius. The problem can be fixed by installing additional active cooling, the reader will say. And make a mistake. Installing a fan will not give a positive result.
Network operation looks very strange. The 5 GHz wireless interface test showed poor results. Download - 42 Mbit, upload - 40 Mbit. Only the connection of the wired interface corrects the situation with the network: 820 Mbit for download and 660 Mbit for download.
And yet, the HK1 X3 set-top box on Amlogic S905X3 does not support 5.1 sound, autoframe. There is only one conclusion - TV boxing should never be purchased. This is money down the drain. In the price category 40-60 $ you can find more interesting solutions. We recently reviewed "TOP 5 TV boxes from China from 50 to 100 $"- use the tips, you will not regret it.