Channel TECHNOZON: a complete review of the TV box UGOOS X3 Pro 4 / 32
The Amlogic S905X3 processor is actively used by set-top box manufacturers. Indeed, in terms of performance, the new chip satisfies all the tasks of the user. From video processing to resource-intensive toys. There is only one problem - most of the products on the market, installing a powerful chip, forget about the requested functionality. Someone installs an "ancient" network adapter on 100 Mbps, someone is greedy with USB 3.0. Poor cooling, lack of HDCP2.2 or HDR - constantly some flaws manifest themselves. The UGOOS X3 Pro 4 / 32 TV box on the Amlogic S905X3 processor is designed to solve all consumer problems. Technologists of the company studied the market of consoles and offered a very attractive product.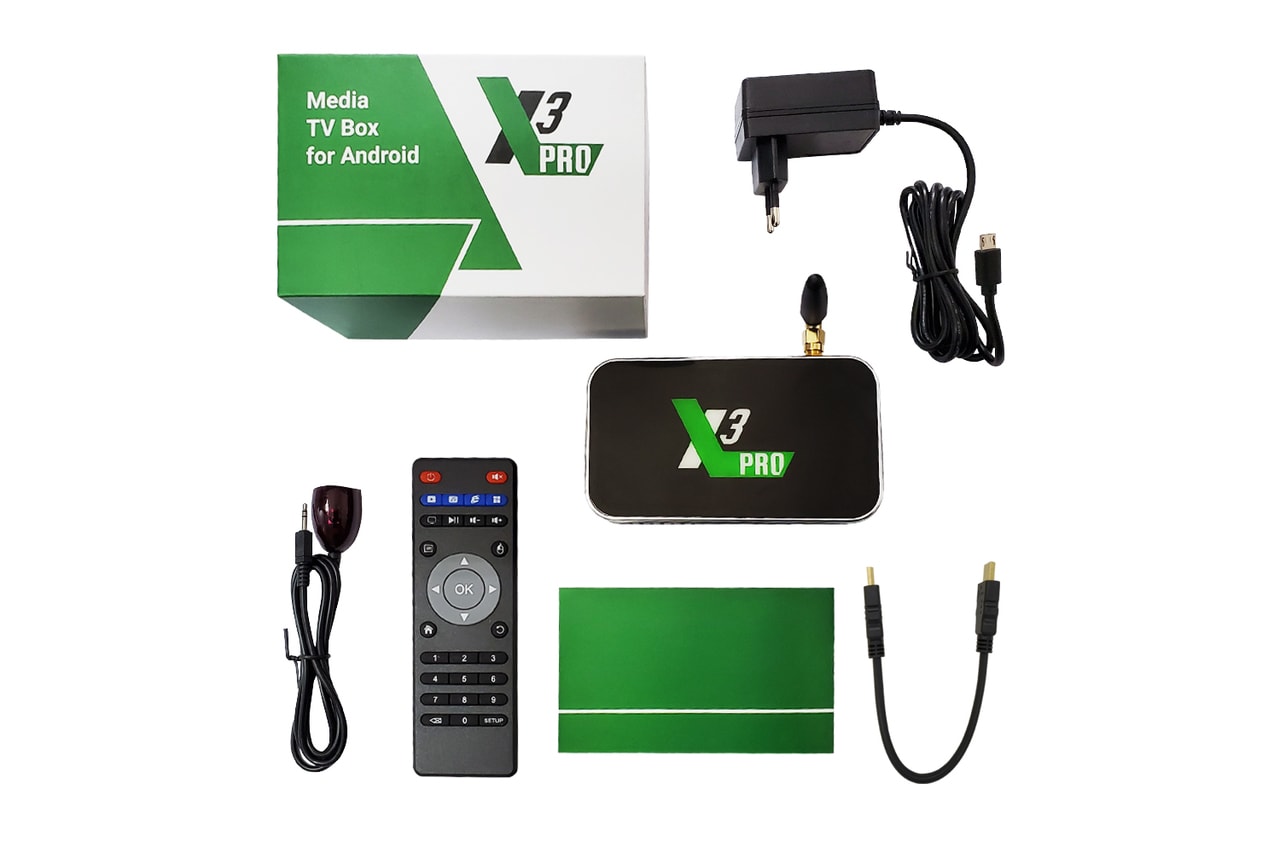 UGOOS X3 Pro 4 / 32 TV box: specifications
| | |
| --- | --- |
| Chip | Amlogic S905X3 |
| Processor | ARM Cortex-A55 (4 cores, 1,9 GHz) |
| RAM | LPDDR4-3200 SDRAM 4 GB |
| Built-in Memory | EMMC Flash 32 GB |
| Graphics Processor | ARM G31 MP2 GPU |
| OS | Android 9,0 |
| Wired connection | LAN Ethernet RJ45 1 Gbps |
| Wireless network | 2,4G / 5 GHz dual band WiFi (with antenna), Bluetooth 4.1 |
| Interfaces | HDMI 2.1, S / PDIF, LAN, IR port, AV-OUT, USB 2.0 and 3.0, TF slot |
| HDCP support | Yes, 2.2 versions |
| HDR | HLG / HDR10 / 10 + Dolby Vison, TCH PRIME |
| Video decoder | H.265, VP9, AVS2 up to 4K p75 10 bit H.264 4K p30 |
| Superuser Rights | Full: SuperSU, Silent |
| Server settings | Yes: Samba, NFS, CIFS |
In terms of functionality and ease of setup, TV BOX is very different from similar consoles of other brands. The control menu is very flexible and allows you to fine-tune not only the TV box, but also the connected equipment. More detailed information can be obtained from the review below.
Advantages of the UGOOS X3 Pro
In priority, for any owner of a modern TV, the quality of video content transmission always remains. An 4K movie with HDR support should play without braking, either from an external drive or from the Internet. And the UGOOS X3 Pro prefix copes with the task. Torrent, streaming - files of large volumes (50-80 GB) are perfectly reproduced without any inconvenience.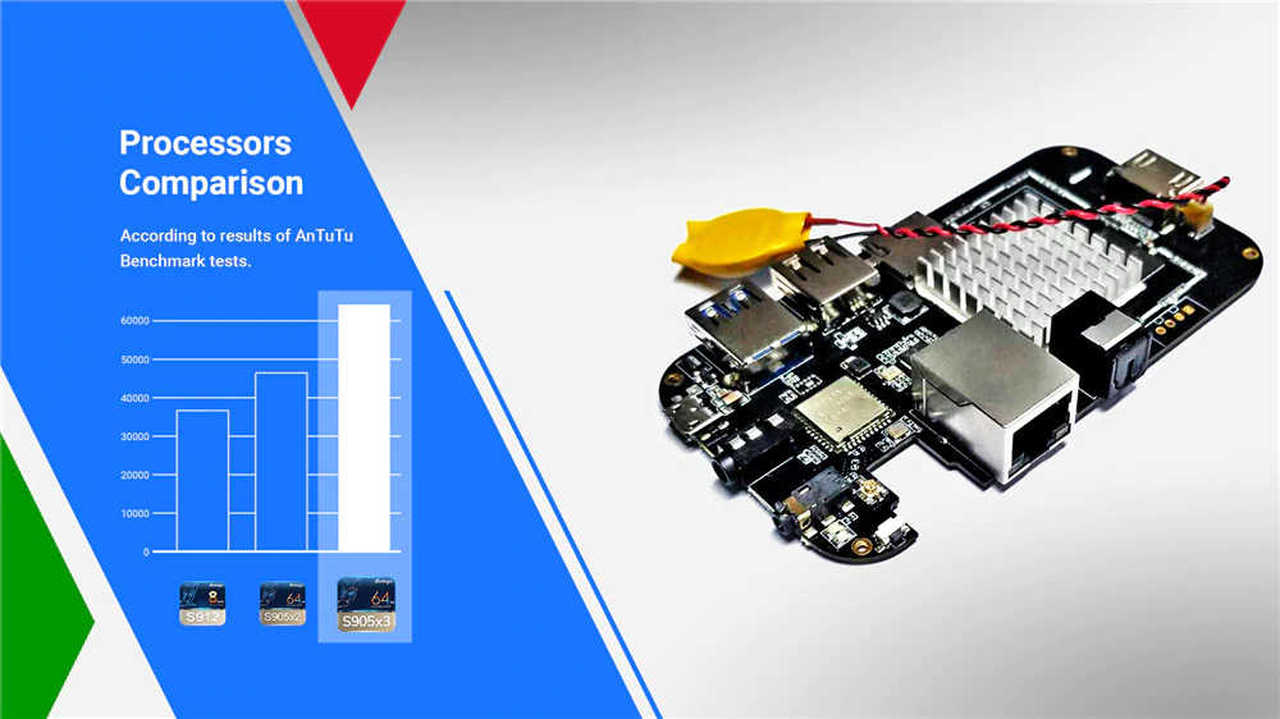 The second criterion for buyers is throttling during overheating. The Amlogic S905X3 chip is heated to 60-70 degrees Celsius. But this does not interfere with the prefix in the work. According to the tests (see the review), you can safely call the TV box "cold". Neither IPTV, nor resource-intensive toys, were able to "put" a processor or memory. And it's very cool.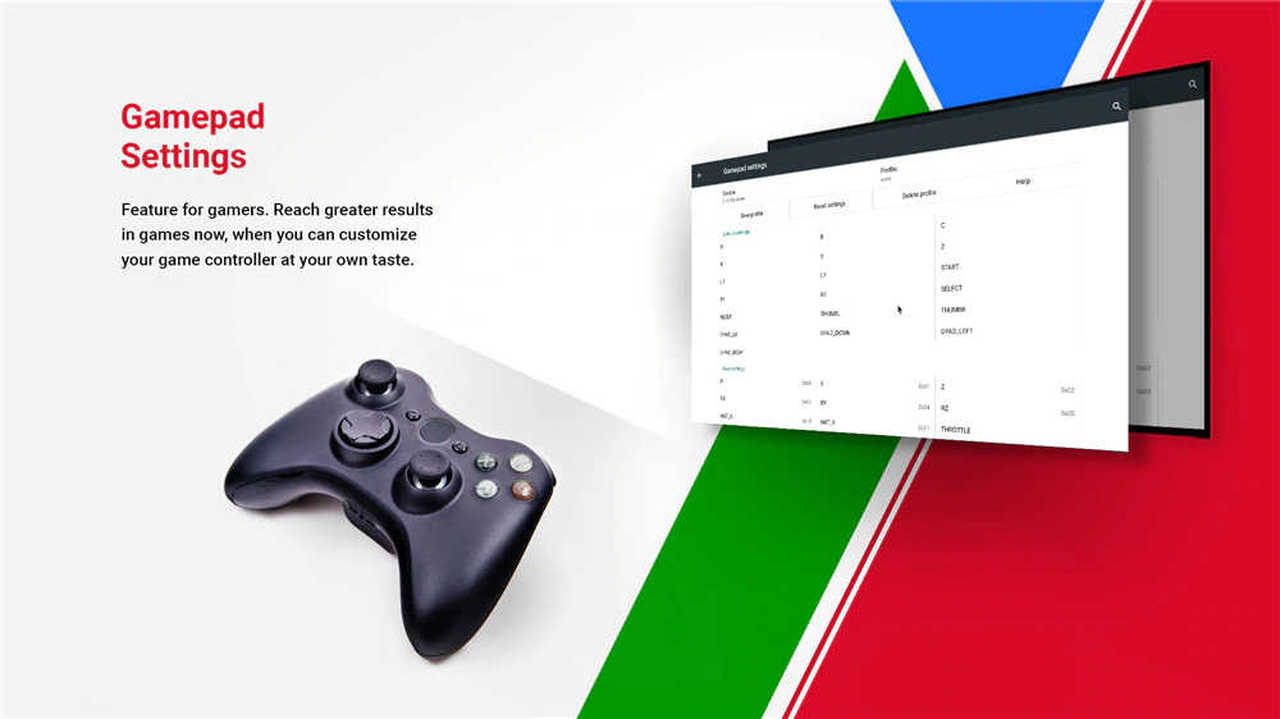 Convenient management. Well thought out connection of remote controls, mobile equipment and joysticks to the console. There are a bunch of options that allow you to fine-tune any equipment. You can even synchronize the control of the set-top box with the TV. This is very convenient when there are a lot of equipment in the house, and there are several remotes at hand.
Integration with any equipment. Note that almost all modern set-top boxes and TVs manufacturers are equipped with digital audio output (S / PDIF). Connecting active speakers or an old home theater is unrealistic. Users will learn about the problem after purchasing the equipment. And they begin to come up with options - buying a DAC or an HDMI to RCA adapter, upgrading the receiver. Having bought the UGOOS X3 Pro 4 / 32 TV box, no manipulation is required. On board the console is already present, and digital, and analog output for audio and video. It is a pity that the AV cable is not included. But buying a consumable will cost much cheaper than upgrading or acquiring a DAC.
Links of the author of the video review:
Bought X3 PRO HERE - http://s.click.aliexpress.com/e/lowQ8NHQ
Ugoos X2 Cube - https://youtu.be/-YwQAGp4FPI
Ugoos X2 ATV - https://youtu.be/N34quj8KL5E
Ali - http://s.click.aliexpress.com/e/LadRkhS
Ugoos X2 PRO 4 / 32 - https://youtu.be/ayFLrSM7CYw
Ali - http://s.click.aliexpress.com/e/ECNyKodE
2 channel from TECHNOZON - https://youtube.com/4kgeoplaces
****************************************
!!! ATTENTION CURRENT PROMOTIONS !!! DARIM NVIDIA GEFORCE GTX 1660 - https://youtu.be/jCPrmNkux6A
****************************************
LazyMedia Deluxe 3 TOP CINEMA - https://youtu.be/y9DDntxaUzo
Public Links: Telegram CHAT - https://t.me/TECHNOZON_TELEGRAM
Telegram channel - https://t.me/technozonofficial
facebook group - http://bit.ly/2Vp02TP
Men's Shopping Territory - http://bit.ly/2VhMXLS
viber - http://bit.ly/2VkSdhJ
Bubble PAYPHONEX (Direct Contact) - http://bit.ly/2ES0tQ0
Top 5 TV BOXES up to 50 $ - https://youtu.be/J6K_7rJFzf0
Top 5 TV BOXES from 50 $ to 100 $ - https://youtu.be/y9q30Za5wt0
Top 5 TV BOXES from 100 $ to 200 $ - https://youtu.be/80h-P4I8_wE
Where to buy a very CHEAP Beelink GT-King PRO review - https://youtu.be/Z7abn9i_DQ8
Aliexpress - http://s.click.aliexpress.com/e/KqQ0E2VS
GearBest - http://bit.ly/3666FjA
UGOOS AM6 - https://youtu.be/zHdGrIFYn6I
UGOOS AM6 ATV - https://youtu.be/JA5I0so6Dl4
UGOOS AM6 HD Sound - https://youtu.be/dSdeZSTPQt8
Aliexpress - http://s.click.aliexpress.com/e/SyWrAhK
Gearbest - http://bit.ly/2YWMikF
Ukraine Rozetka - https://fas.st/9aIFnw
UGOOS AM6 PRO - https://youtu.be/UeUTy_BUgwk
Ali - http://s.click.aliexpress.com/e/k7KboWl2
Ugoos X2 Cube - https://youtu.be/-YwQAGp4FPI
Ugoos X2 ATV - https://youtu.be/N34quj8KL5E
Ali - http://s.click.aliexpress.com/e/LadRkhS
Ugoos X2 PRO 4 / 32 - https://youtu.be/ayFLrSM7CYw
Ali - http://s.click.aliexpress.com/e/ECNyKodE
A95X F3 (905х3) - Overview - https://youtu.be/jvWR4maqUMA
Ali - http://s.click.aliexpress.com/e/3LopS2H2
BEELINK GT1 Mini-2 review - https://youtu.be/mVQztD8XfeM http://s.click.aliexpress.com/e/kukeRV4y
Beelink GT1 Mini review - https://youtu.be/ZBYTgQA7OAA
Ali - http://s.click.aliexpress.com/e/cVB4xwpi
Gearbest - http://bit.ly/2VkDqDE
MECOOL KM3 Review - https://youtu.be/xQiG-L2topU
Ali 64Gb and 128 Gb - http://s.click.aliexpress.com/e/vOkolB6
Geatbest 64Gb and 128 Gb - http://bit.ly/2UtClZd
MECOOL KM9 PRO https://youtu.be/M71bsB-vCjQ
Ali - http://s.click.aliexpress.com/e/cqNbkza0
GearBest - http://bit.ly/2VLdOzZ
Xiaomi MI BOX 3 2019 review - https://youtu.be/12S7c6rr5gY
Ali - http://s.click.aliexpress.com/e/kJqeLXFa
GearBest - http://bit.ly/303E4az
Xiaomi Mi Box S Review - https://youtu.be/4SNS4L_MWMU
Review update with AFR - https://youtu.be/_dYPXpsrVhk
BUY XIAOMI MI BOX S Ali - http://s.click.aliexpress.com/e/BTAHQVQC
Gearbest - http://bit.ly/2WPBgMd
Ugoos AM3 2019 Review - https://youtu.be/6jHPhDLydS8
Ugoos AM3 ATV - https://youtu.be/uyCFjo8dzJU
Ali - http://s.click.aliexpress.com/e/MUwzplq
A95X MAX PLUS Review - https://youtu.be/UvHoNtHLFyg
Ali - http://s.click.aliexpress.com/e/d1Eku5Eo
MECOOL M8S MAX Review - https://youtu.be/1ZyTcm5q7Kc
Gearbest - http://bit.ly/2YRdGk9
Ali - http://s.click.aliexpress.com/e/bQKPE7P2
S95 Review - https://youtu.be/2ls43npAKbQ
Ali - http://s.click.aliexpress.com/e/O3rtTGaM
GearBest - http://bit.ly/2VrR3Aq
Mecool K6 DVB S / S2 / T2 / C Review - https://youtu.be/zizU4xH4Ofw
Aliexpress - http://s.click.aliexpress.com/e/bQCDbsw8
GearBest - http://bit.ly/2KnfT1S
Zidoo Z9S https://youtu.be/zMayjjjdgK8
Buy - http://s.click.aliexpress.com/e/cqMuzDoc
A95X MAX review - https://youtu.be/9hu4xULXq6E
Ali - http://s.click.aliexpress.com/e/FpqWMAp6
X96 MAX (S905X2) Review - https://youtu.be/__k6XkCeOho
Ali - http://s.click.aliexpress.com/e/bjwHRgFQ
A95X Plus review - https://youtu.be/AFAvFA35ueY
Ali - http://s.click.aliexpress.com/e/tvJGOhw
X96S Review - https://youtu.be/17AjmQazy8A
Ali - http://s.click.aliexpress.com/e/ofJNkWG
Gamepads for Smart TV Boxes Gamepad IPEGA PG-9089 Review - https://youtu.be/wqJimKzuwSw
Ali - http://s.click.aliexpress.com/e/Mh62gH6
IPEGA-9090 Gamepad Review - https://youtu.be/1rYkpgdoguY
GearBest - http://bit.ly/2L7oVza
Aliexpress - http://s.click.aliexpress.com/e/E2TGkHYy
Keyboards & Remotes: Rii mini i25A Review - https://youtu.be/bCz3qyiQJrA
Ali - http://s.click.aliexpress.com/e/Q7qQywM
G30 Remote - https://youtu.be/nJSDv3RQQCk
with 33 prog buttons Aliexpress - http://s.click.aliexpress.com/e/Fvv3PDq
with 2my prog buttons GearBest - http://bit.ly/307Xc7r
G20S Remote - https://youtu.be/JSqkqziGIYc
ALi - http://s.click.aliexpress.com/e/6aBIzUc
GearBeat - http://bit.ly/2UC2qoX
G10 Remote Review - https://youtu.be/YIqff5VtDwE
Ali - http://s.click.aliexpress.com/e/cOhAxgPO
Keyboard with aero - https://youtu.be/JjZOt2fjirE
Ali - G7 - http://s.click.aliexpress.com/e/BJjfLdC4