Making money on the Internet without attachments is great. Especially if the Banker Telegram bot works for a person. There is nothing simpler - press the "earn" button, choose a method and receive instant reward. The bot brings a decent income. On average, 10-15 US dollars per day, without loss of personal time. Per month is 300-450 American bucks.
And yet, there is a catch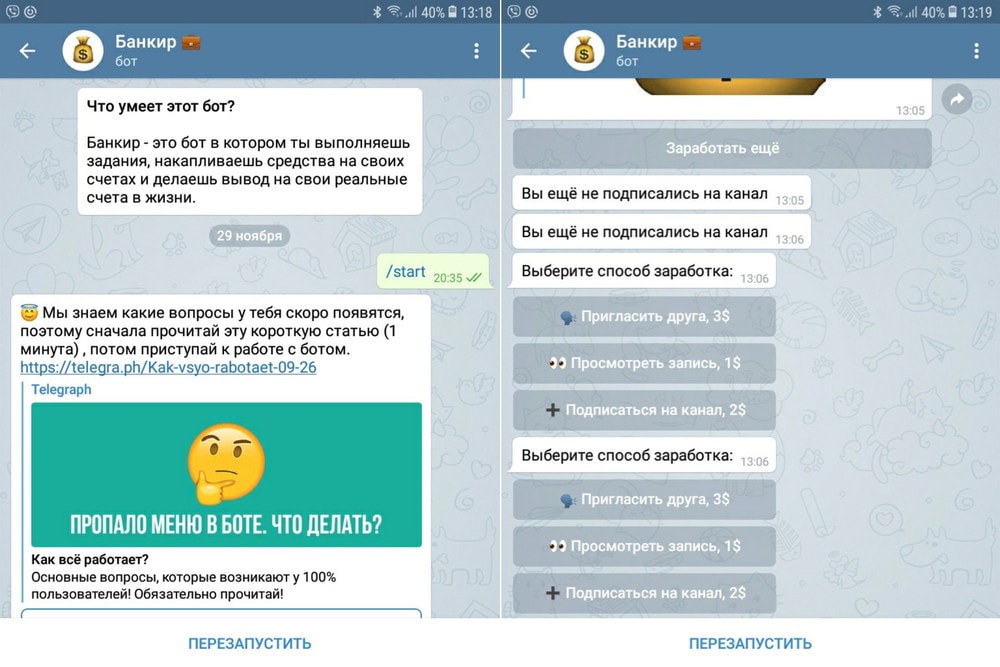 On behalf of the owner, the Telegram Banker bot simulates violent activity. Subscribes to other channels of the user, adds friends and views some entries on the Internet. Money flows like a river. A healthy person, accustomed to raising funds for food, will certainly have questions. And they appeared at the stage of withdrawing funds.
Bot Banker in Telegram: withdrawal of money
The creators of the bot initially notified the user about the minimum transaction for withdrawing money - 100 US dollars. They explained simply - fewer transactions reduce the load on the server. There is logic, if you imagine how thousands of users daily withdraw 10-15 bucks. On the other hand, millions of cryptocurrency purchase and withdrawal transactions call into question the notification of the creators of the bot.
Without sucker and life is bad
So, the balance exceeded the mark in 100 $ and the user decided to cash out the money earned. Bot Banker in Telegram offers several payment systems, including QiVi and WebMoney. After a request for withdrawal, miracles begin:
- the payment system, according to the bot, does not support transactions in dollars, and requires a conversion fee of $ 1;
- the bot wants confirmation of ownership of the wallet in the form of a control payment in the amount of 2 $;
- payment service commission - 4 $;
- earnings are not taxed, and income must be legalized - 5 $;
- Creation of an electronic signature and lease of a transit cell - 5 $.
After all the payment manipulations, the Banker bot in Telegram gives a message that the payment has not been confirmed and offers to repeat the operation later. And later, after an hour, two or a day, the scheme of exhausting money for services is repeated.
But what is the layout?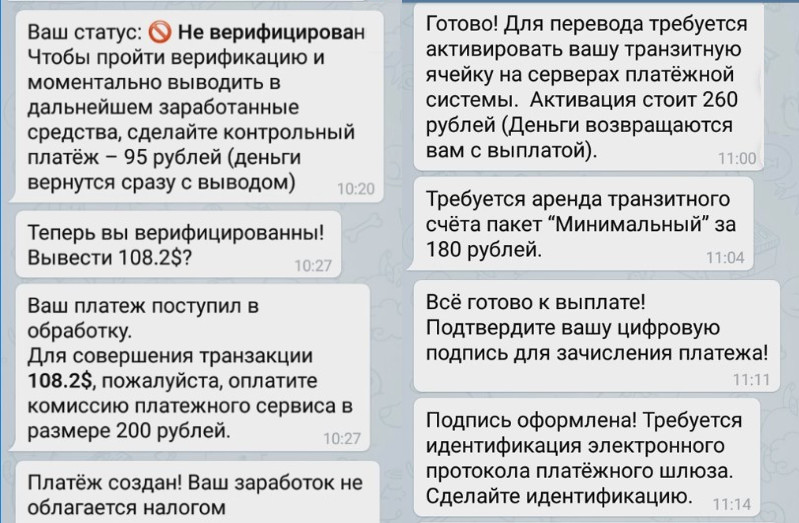 The amount of money earned by the bot remains unchanged, and all expenses are debited from the user's wallet. There is no money on KiVi or WebMoney - replenish, otherwise the bot will display a message that the user does not have enough money in the account.
The bottom line, if very briefly: Bot Banker in Telegram is a scam. Moreover, perfectly thought out and well-developed. Do not believe it - try it for yourself.