The ongoing race in the TV box market is still coming to a logical end. Manufacturers settled on the Amlogic S905X3 chip and are trying to fully reveal its potential. Now the struggle is for memory, interfaces and functionality. In the budget segment, the TV BOX VONTAR X3 has solidly strengthened. The prefix attracts with its price and technical capabilities.
Technozon offers an honest overview of TV boxing. All author links at the bottom of the article.
TV BOX VONTAR X3: specifications
Manufacturer
VONTAR (Guangdong China)
Chip
Amlogic S905X3
Processor
4хARM Cortex-A55 (up to 1.9 GHz), 12nm process
Video adapter
Mali-G31 MP2 (650 MHz, 6 Cores)
RAM
4 GB (DDR4, 3200 MHz)
Persistent memory
32 / 64 / 128 GB (eMMC Flash)
ROM expansion
Yes, memory cards
Operating system
Android 9.0
Update support
Yes, inline
Wired network
Yes, RJ-45 (1Gbits)
Wireless network
802.11 a / b / g / n / ac 2.4GHz / 5GHz (2 × 2 MIMO)
The presence of antennas
No
Bluetooth
Yes 4.0 version
Interfaces
1xUSB 3.0

1xUSB 2.0

HDMI 2.1 (supports HD CEC, Dynamic HDR and HDCP 2.2, 4K @ 60, 8K @ 24)

AV-out (standard 480i / 576i)

SPDIF

RJ-45 (10/100/1000)

DC (5V / 2A, blue power indicator)

Memory card support
Yes, microSD up to 64 GB
Root
Yes
Management
IR remote control, voice control, gyroscope
Digital panel
Yes
Price
30-50 $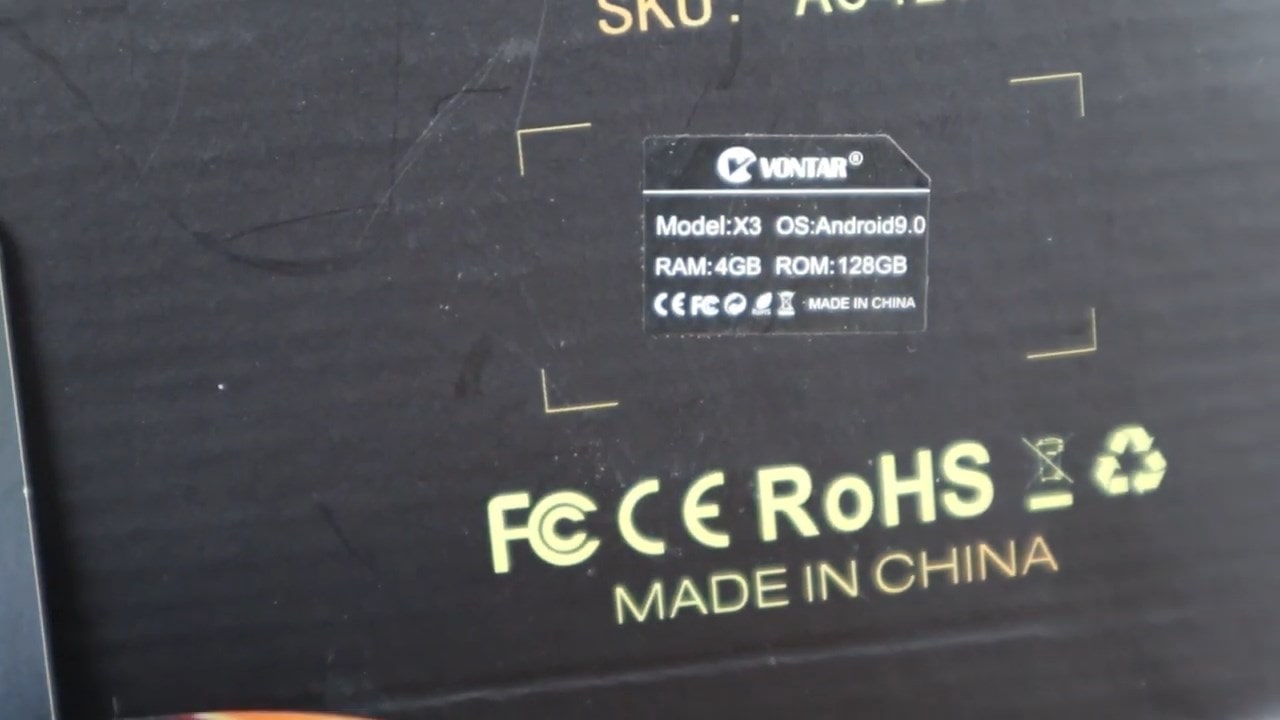 To the benefits of TV BOX VONTAR X3 you can safely add support for Amlogic Video Engine (AVE) at the hardware level. The prefix is ​​able to encode and decode protected video and sound formats. The audio decoder supports all popular formats and perfectly distills them to 5.1 and 7.1. As a result, the buyer receives a full-fledged "combine" for the TV, which knows everything.
TV BOX VONTAR X3 at a Glance
Stylish packaging and an equally attractive set-top box create a pleasant experience when you first meet. Externally, the TV box looks cool - war paint in dark colors. By the way, the first impression that the console was created for games was confirmed during testing.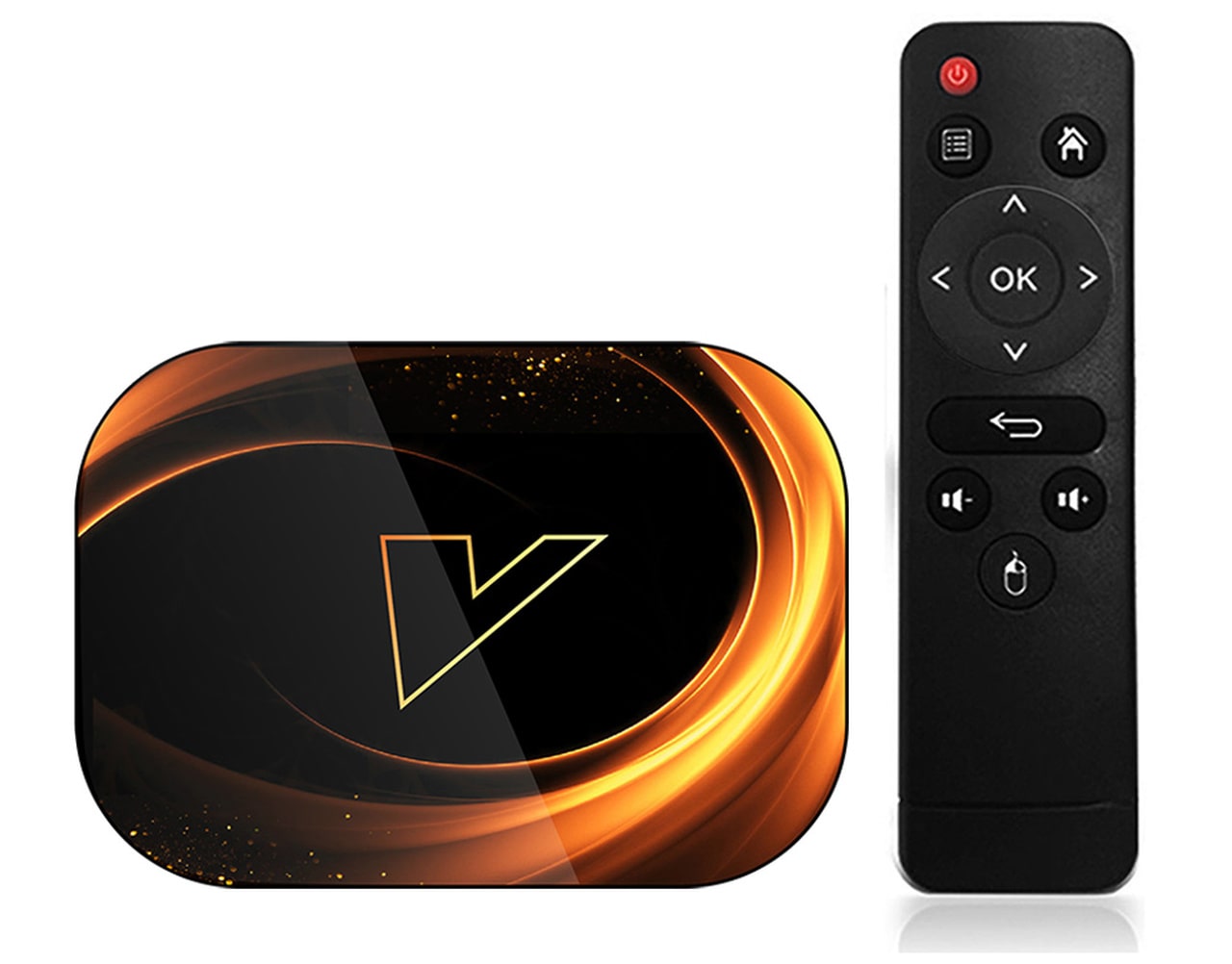 Build quality is good. Design deserves attention. The Chinese were not too lazy and made the case beautiful and solid. But the remote that comes with the kit is more like a semi-finished product. Fortunately, sellers in online stores took into account the imperfection of the set-top box and offer to immediately purchase a normal remote control. But these are trifles.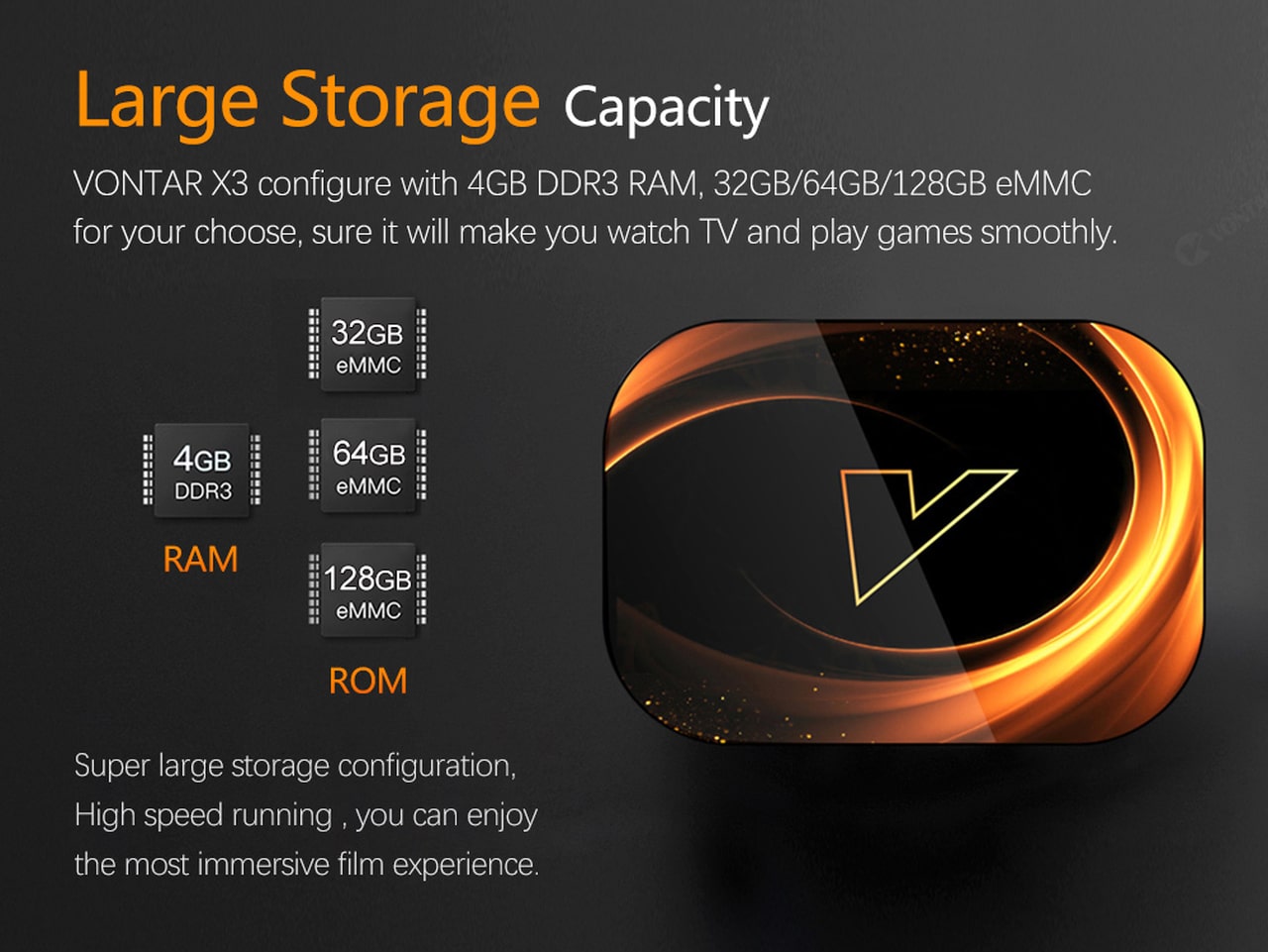 Concerning usability. The wretched Launcher and the oddities in voice control spoil the big picture. Perhaps the manufacturer will finalize the firmware and all problems will disappear. But this is a theory. So far, watching content on TV is displeasing.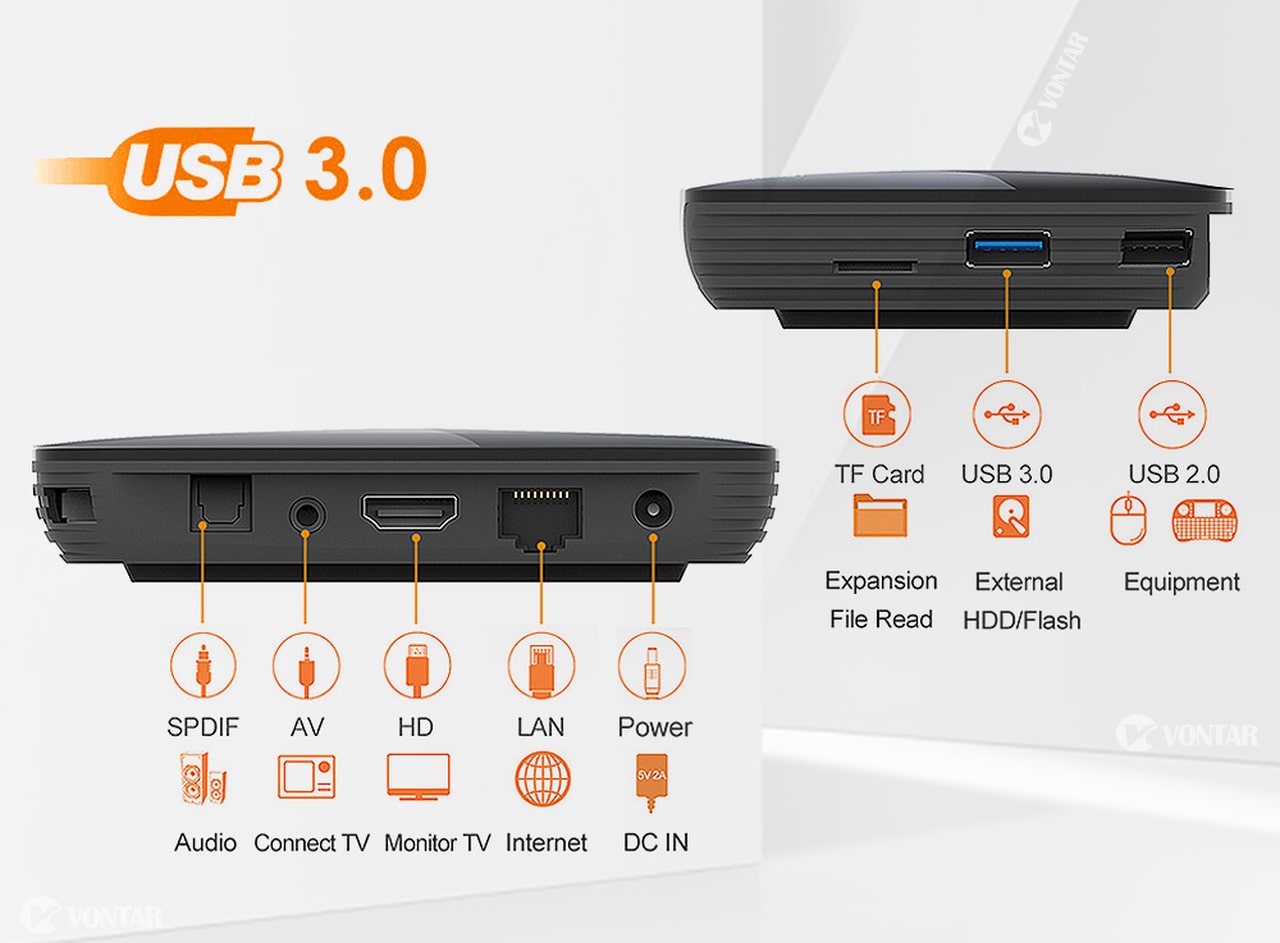 On the other hand, the TV BOX VONTAR X3 has excellent performance. There are completely no lags in games, and there is no throttling in test applications. Suddenly. A large amount of ROM (for the 128 GB version) and a powerful chip directly determine the purpose of the console.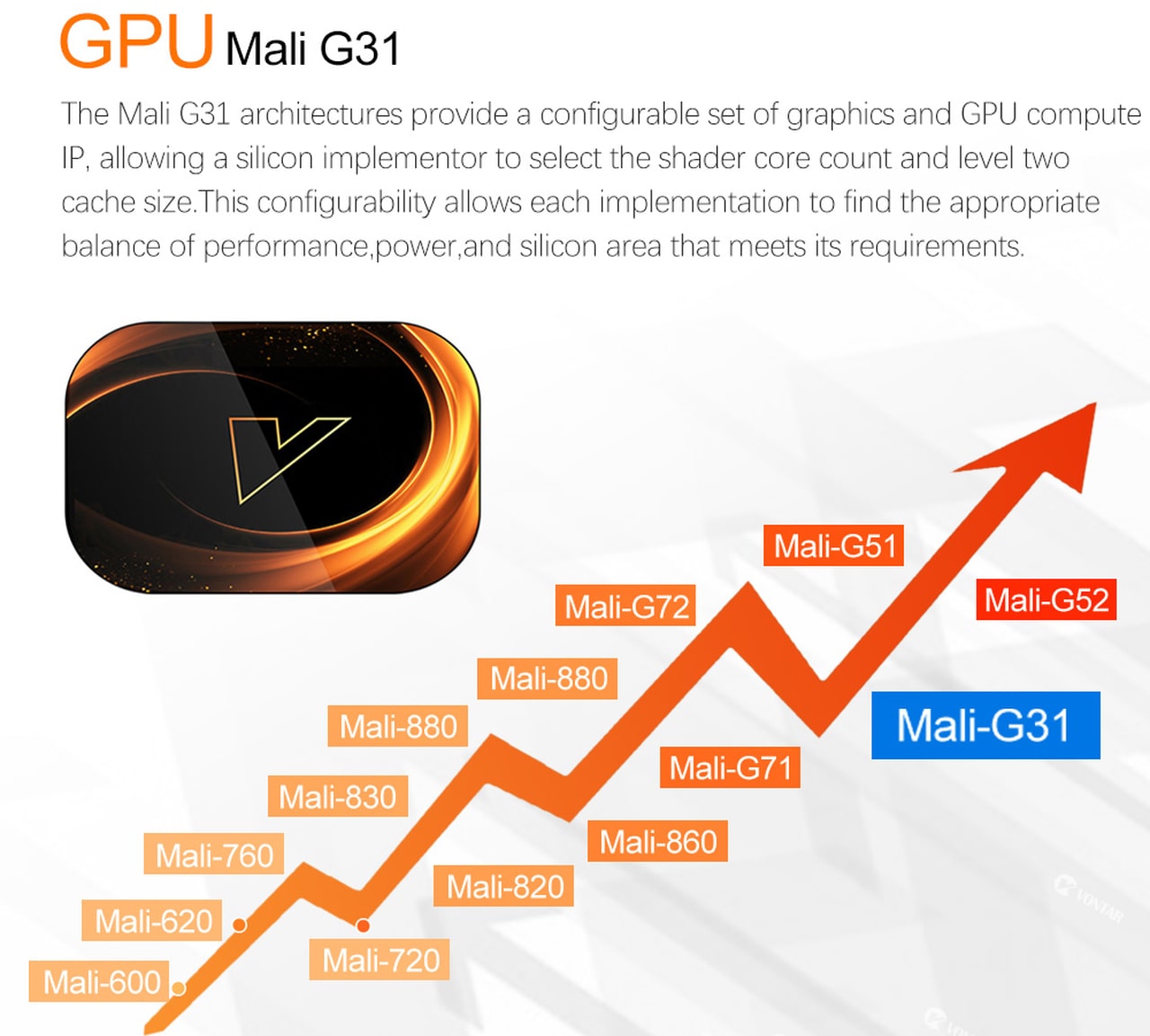 Rumor has it that Vontar bought an OEM version consoles HK1 and, with a little refinement, he launched it on the market under his own name. Given the similarities in appearance and filling, it is easy to believe in such statements.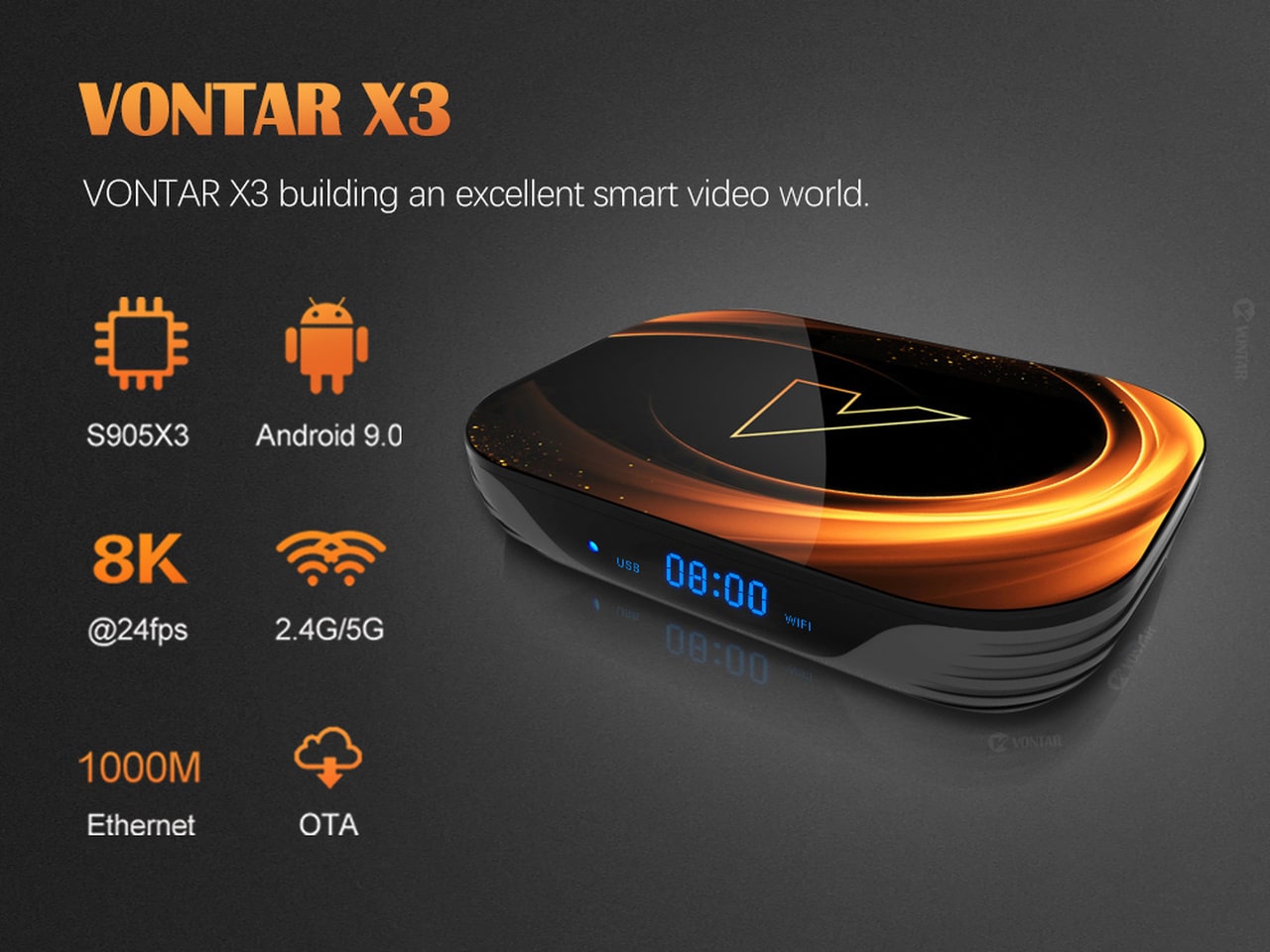 In the budget class (up to $ 50), the device has practically no equal in performance and functionality. Therefore, we can safely recommend TV boxing to all users who plan to watch video content in high quality and play Android games. Focusing on toys, it is better to give preference to the version with 128 GB ROM and get a normal gamepad. You can buy a set-top box at the TeraNews partner price using the link: https://s.zbanx.com/r/EoaseMNZD7HO