The well-known Ukrainian boxer British boxer, Anthony Joshua, again won an early victory in a duel with a rival from Cameroon - Carlos Takama. The fight took place at the Millennium Stadium in the capital of Wales, Cardiff. Recall that we are talking about the same Englishman, who 29 April 2017 year by technical knockout at Wembley Stadium in London, won the match against Wladimir Klitschko.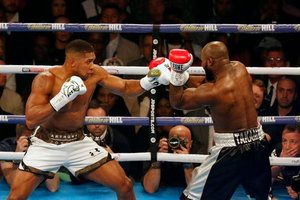 Sports experts find many oddities in the duel of the heavyweight athlete from foggy Albion with the middle African. As it turned out, the coaches of Anthony Joshua were preparing the athlete to fight with the Bulgarian professional, Kurbat Pulev, who, due to an injury, lost the race 12 days before the World Cup. In order not to cancel the competition, the organizers set about searching for an opponent for the Englishman. It turned out to be difficult to find a heavyweight, and even a tall one, which is why they settled on Cameroon.
The fight turned out to be interesting for the fans, who already at the 4 round appreciated the training and power of the African boxer, who knocked down the Briton. However, already in the tenth round, luck shifted towards the Englishman, who eventually won the fight thanks to the referee's go-ahead. Judging by the feedback from the audience on social networks, Takam was on his feet and could continue the match, thus asking uncomfortable questions to the tournament organizers.
According to the winner, a lack of preparation prevented Cameroon from being knocked out. The coaching staff prepared Joshua for the fight with a two-meter Kurbat Pulev, adapting the stance and punches to the growth of the opponent. Perhaps working in sparring with the smaller guys would help the athlete put the African before. But as they say, the winners are not judged - the champion's belt and the applause of the 75 thousandth crowd go to Briton Anthony Joshua.